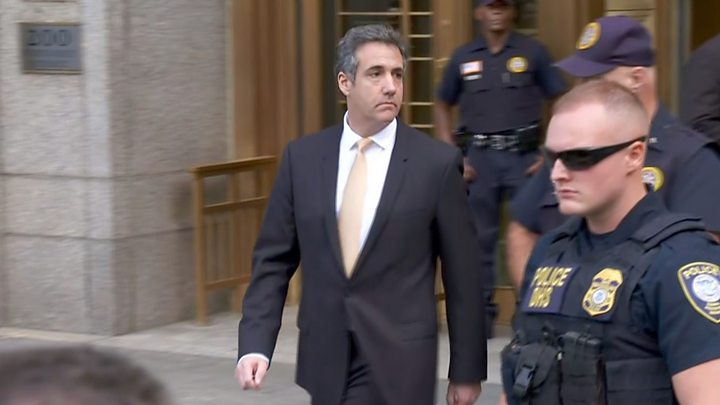 US President Donald Trump's former lawyer, Michael Cohen, has pleaded guilty in a New York court to violating campaign finance laws.
He said he had done so at the direction of "the candidate", for the "principal purpose of influencing [the] election".
The admission was related to hush money paid to Mr Trump's alleged lovers.
Mr Trump has not commented. In May, he admitted reimbursing Cohen for paying one of the women, having earlier denied any knowledge of it.
Cohen, 51, admitted eight counts on Tuesday, including tax and bank fraud, in a plea deal with prosecutors which may see his prison sentence reduced from 65 years to five years and three months.
Will Trump remain bulletproof?
On the same day, a jury in Alexandria, Virginia, convicted former Trump campaign chairman Paul Manafort of bank and tax fraud charges.
The developments in the Cohen and Manafort cases have revived speculation that the president himself may face legal proceedings.
What happened in court?
Clearly referring to Mr Trump, Cohen said he had been directed by "a candidate for federal office" to break federal election laws.
Cohen pleaded guilty to counts of tax evasion, making false statements to a financial institution, wilfully causing an unlawful corporate contribution and making a campaign contribution at the request of a candidate or campaign.
Sentencing was set for 12 December and he was released on bail of $500,000 (£390,000).
Who is Michael Cohen?


'Lock him up!'

Nick Bryant, BBC News, in court

This was the legal summer blockbuster that journalists had been waiting months for and, in terms of courtroom drama and potential political impact, the appearance of Michael Cohen, Donald Trump's one-time Mr Fix-it, didn't disappoint.

It was his admission that he had knowingly broken campaign finance laws that was by far the most politically explosive.

It was extraordinary to hear him tell the court that he had done so in co-ordination with, and at the direction of, the candidate.

Though he did not mention his name – or those of the women in question – the candidate is, of course, his former boss, Mr Trump.

Though Cohen has admitted guilt, he has not agreed as part of the plea agreement to co-operate with federal prosecutors, either in New York or those working on the investigation led by the special counsel Robert Mueller.

He left court to chants of "lock him up" from a few of his fellow New Yorkers.

---

What did prosecutors say?

Robert Khuzami, the deputy US attorney for the Southern District of New York, said Cohen's crimes had been "particularly significant" because he was a trained lawyer.

Cohen, he said, had failed over the past five years to report income on $1.3m from a taxi business, $100,000 from brokerage commissions and $200,000 from consultancy fees.

He said Cohen had provided "sham" invoices to the campaign for legal fees that he allegedly provided last year.

The prosecutor also said Cohen had sought reimbursement for his "excessive campaign contribution" by submitting the bogus invoices to the campaign.

Why was hush money paid?

Porn star Stormy Daniels says she was paid $130,000 by Cohen just days before the 2016 election to keep quiet about an affair she says she had a decade earlier with Mr Trump.

Cohen also recorded a conversation with Mr Trump two months before the election in which they discussed buying the rights to a kiss-and-tell story by former Playboy model Karen McDougal who says she had an affair with Mr Trump.

McDougal apologises for 'Trump affair'

Undisclosed payments to bury embarrassing stories about a political candidate can be treated as a violation of US campaign finance laws.

The lawyer for Ms Daniels – who is suing both Mr Trump and Cohen for defamation – tweeted that the court developments had boosted her case against the president.