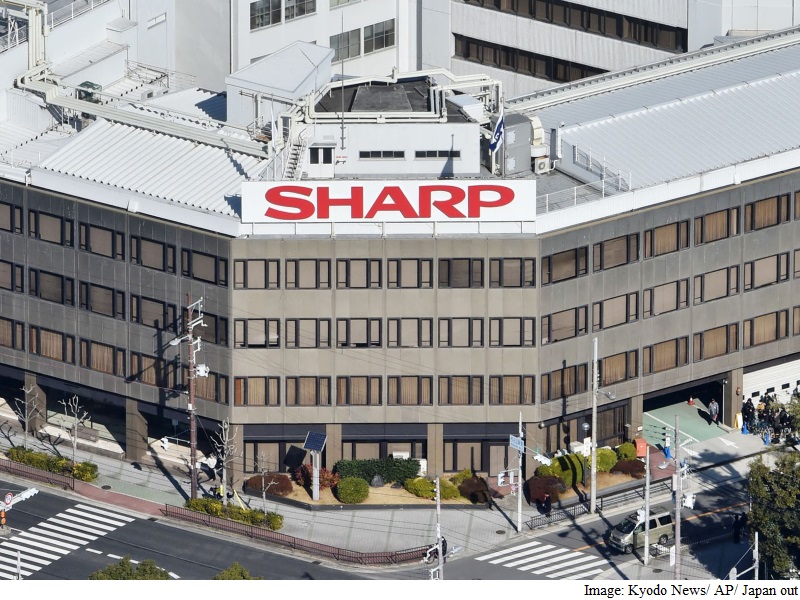 Embattled electronics giant Sharp has accepted a multi-billion-dollar bailout from the parent company of Taiwan's Foxconn, local media reported Thursday, in what would be a rare foreign takeover of a Japanese firm.
The deal, which could be worth as much as $6.2 billion (roughly Rs. 42,475 crores), was agreed at aSharp board meeting Thursday, Japanese media including the leading Nikkei business daily reported.
Sharp's volatile stock soared nearly six percent on the reports, which come after weeks of speculation over whether it would choose an offer from a domestic investment fund or Taiwan-based Hon Hai Precision, a major Apple supplier.
Sharp declined to comment on the reports, while Hon Hai could not be immediately reached.
Media have suggested the Taiwanese firm's offer would keep Sharp intact, while it would be broken up under a rival bid from the public-private Innovation Network Corporation of Japan (INCJ).
Despite its bleeding balance sheet, Sharp remains a leader in liquid crystal display technology, a key asset for Hon Hai.
This month, Sharp's chief Kozo Takahashi refused to be drawn on which offer he favoured, but said his company was putting "more manpower" into evaluating the Taiwanese offer.
Media said the government and Sharp's bank creditors were concerned about the company's key technologies falling into the hands of a foreign firm.
Century-old Sharp, which supplies smartphone and tablet screens to Apple but started life making belt buckles and pencils, was once among Japan's leading firms and its brand was internationally recognised.
But the company has teetered on the edge of bankruptcy for years, piling up eye-watering losses and struggling through a restructuring plan that has yet to pull it out of the red.
This month, the firm posted a whopping nine-month net loss of more than $900 million (roughly Rs. 6,165 crores), hit by restructuring costs and a slump in demand for its smartphone screens.
Along with rivals Sony and Panasonic, Japan's electronics giants were hammered by steep losses in their television units owing to stiff competition from lower-cost rivals, particularly in South Korea and Taiwan.
They were also outmanoeuvred in the mobile phone business, but Sony and Panasonic have seen improving results lately.
[SOURCE:-gadgets.ndtv]