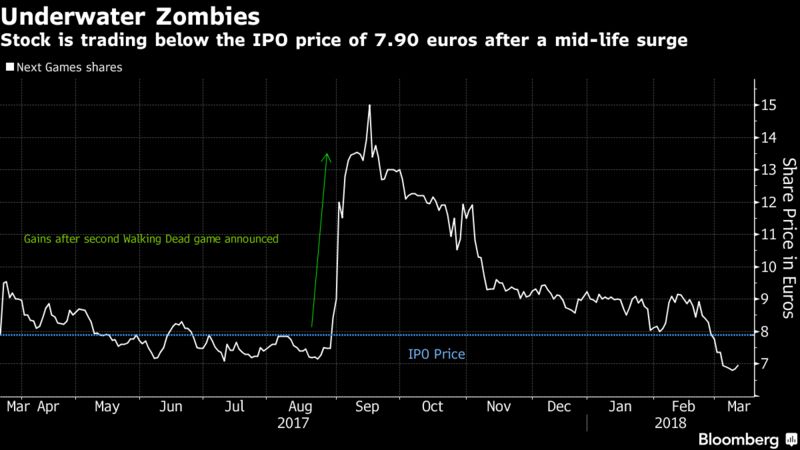 As the creator of Angry Birds faces turbulence, a local gaming rival is taking a different route to dodge the marketing costs that have aggrieved Rovio Entertainment Oyj'sinvestors.
Helsinki-based mobile gaming company Next Games Oyj is betting on popular films and TV series to provide the backbone for its expansion from a one-game operation to several titles. It has four games in the pipeline, with augmented-reality zombie fighter "The Walking Dead: Our World," set for wider launch during the first half of the year.
"The biggest cost for any mobile gaming company is always the user acquisition — eg. marketing," Chief Executive Officer Teemu Huuhtanen said in an interview.
Rovio, once the darling of the European mobile gaming industry, has largely kept control of its franchise. Its first movie made almost $350 million at the box office. However last month its shares dropped 50 percent in a single day after posting a profit warning, as efforts to broaden its games portfolio largely faltered. Rovio nearly tripled its user acquisition investments from a year earlier during the second half of the year, attempting to halt the slide in active players, forecasting a similar level of spending for this year.
Next Games plans to tap into existing fan bases, such as those of The Walking Dead TV series run by AMC Entertainment Holdings Inc., and is also banking on augmented reality. The second Walking Dead offering will allow players to explore real-world settings based on the player's location, fighting zombies with the help of characters from the TV series.
Consumer spending on mobile gaming last year rose to more than three times the game spending on home consoles such as Playstation or Xbox, having first overtaken them in 2014, according to a report published Tuesday by App Annie and IDC. Games represented nearly 80 percent of total worldwide consumer spending in iOS App Store and Google Play.
The company has recently set up an office in Los Angeles to work with film studios, and later this year is launching a game based on the sci-fi movie Blade Runner 2049. It will look into slowly expanding from five initial hires in California, Huuhtanen said.
It is yet to be seen whether Next Games' approach will be successful. The company is nearing its first anniversary since its IPO, and is trading below its offer price. Currently valued at 126.1 million euros ($155 million), Next Games reported a 6.1 million-euro net loss last year, with most of its staff working on projects not yet out, and the company emphasized it's "willing to forgo short-term gains over long-term profit."
Its only game so far, "The Walking Dead: No Man's Land," drove 32.5 million euros in annual revenue for the company.
Finnish Products
The Nordic nation has proved to be a breeding ground for mobile gaming companies, with many startups having earned their stripes building games for early cult devices such as Nokia Oyj's N-Gage gaming platform, released in 2003. Finnish company Supercell Oy, the maker of mobile games Clash of Clans and Hay Day, posted revenue of just over $2 billion in 2017, despite lacking a global launch of a new game. Next Games' biggest investor, Jari Ovaskainen, was also a seed investor in Supercell.
Augmented reality has been a difficult medium to convert into revenue. In 2016 Niantic Inc.'s Pokemon Go became a social phenomenon, with adults and children stampeding through parks and public areas in the hunt for Pokemon. Estimates for revenue generated by the game range from $1.5 billion to $2 billion.
"Apart from Pokemon Go, augmented reality based games haven't really succeeded in reaching the top grossing charts," said Jerker Salokivi, an analyst at Evli Bank. "With improvements in both software and hardware we will likely be seeing more AR games with more realistic features."
During the interview, Huuhtanen stood up to demonstrate the new Walking Dead game, swiftly killing off a few undead walkers that suddenly invaded the space in front of the elevators above the pantry at Bloomberg's London headquarters.
"I prefer to play especially when it's darker," he said. "Pokemon Go is a similar game, but we've added some extra layers."
source:-bloomberg